Pegasus Performances is an Entertainment and theatre company based in Calgary, Alberta. We're also happy to tour! We've entertained thousands from Fort McMurray to Fairmont; Keoma to Kinsella and Lethbridge to Las Vegas!
Pegasus performs Public shows at Fort Calgary (and occasionally elsewhere) and private shows just about anywhere! We were resident co. at the DEANE HOUSE restaurant (host of Calgary's longest-running Mystery Dinner Theatre) for over 10 years. PEGASUS specializes in Mystery shows in a Dinner Theatre format, but also provides other forms of entertainment to put the FUN in your function and make your event special.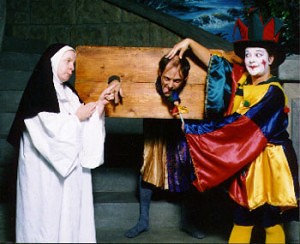 Enjoy Mysteries, Medieval shows, Team Builders and a variety of skilled Talent, fun Characters or variety Performers. We can custom create something perfect for you. Pegasus comes to you (Private shows) or you can come to us (Public or Private shows). Shows are up-close and interactive with action among the guests. The stage is set for fun and audiences can sit back and laugh – or get involved. At our mysteries, guests play "detective" and can interact with suspects. Shows can be customized. Mainly the shows are FUN, with an emphasis on humour and our motto being "You'll Die Laughing!"
We've numerous references and multiple themes available. Let Pegasus put the 'FUN' in your FUNction!
Save
Save
Save