"A Marriage of Two Minds"©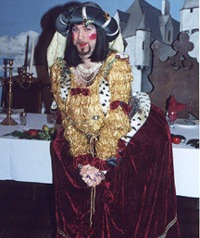 Let 7 Characters (basic version – for groups over 90 people, additional characters may be added) in Hysterical, Historical Costumes take you back to the Middle Ages for a night of mirth, music and merriment – and possibly even matrimony!
The Lord High Chancellor acts as your evening's MC and guide, and your hostess, the Dowager Duchess, is a "strong" and magnificent lady (even if she does have some chest and facial hair!). The Duchess has decided it is time her beautiful and spirited ward, the Lady Maude, be married off to a suitable gentleman with money and title. But the penniless minstrel, Geoffrey, captures the Lady's heart. The merchant, Master Garnet, intends to help Geoffrey, but on whose side is the Duchess' watch guard, Poppett, or the holy Friar?
Guests are invited to see who wins this battle of wills – and to help sway the balance – so a wedding just might result. Games from the Middle Ages such as Jingling and Jousting are played. Rousing, often bawdy, songs are sung. The basic production contains a "War of Words" (2 characters trading witty "Shakespearean" insults) and a short, comic sword fight. (Or for an additional investment, substitute a longer and more "serious" fight with 2 professional fighters in full authentic body armour).
Throughout you may clamp any naughty transgressors in the stocks for punishment. Our Friar or Nun will perform Magic to amaze your guests. Geoffrey sings a variety of tunes and Lad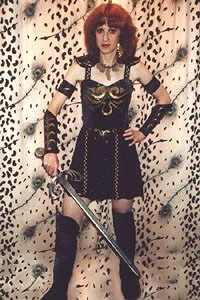 y Maude will rouse all with either her own original musical composition, or beautiful poi-or-glow-stick spinning. Occasionally available, and for an extra fee, enjoy Fire Spinning (especially impressive if room can be darkened), ceiling height, sprinkler system, non-carpeted floor and fire regulations permitting (fire entails extra fee and permit)!
Pre-choose from your guests: a Head Table (King, Queen, Bishop and companion, Knight and companion, Jester and companion) and we'll provide partial costumes and much mirth. Provide us with a few names and we'll have your King "knight" and punish certain pre-chosen "victims" – er, Honored Guests – for added fun!