An Evening With Two Pirates© 
Long John Silver's been granted permission to come back from Davy Jones' locker to whip his great-grandson, Captain Hilighter, into shape. No more selling out to the fish cake companies, maties. Between them you'll learn the pirate code & how to become a real 'rogue of the high seas'.
Runs 1 – 1 1/2 hours. (2 actors, 1 in period costume)
---
A Twisted Tale of Cinderella©
A more 'staged' play with a variety of wild, quasi-Medieval costumes. Cinderella is no demure miss but a tom-boyish, clumsy bookworm with a penchant for practical jokes. The 'Charm Boy' Prince prefers sweatpants and mixing his own music to fancy balls in a tux. Will the acting Fairy Godperson ever get his spells right and earn his coveted diploma – or can he even get the 2 young folks to meet? How hideous are the considerably masculine Step-mother and Grodwhicker, the step-sister with the smelly feet? 30 minute staged Playlet with numerous fabulous costumes, lots of physical schtick and suitable for all ages. (5 actors in a variety of glorious quasi-Medieval costumes).
---
The Case of the Barnyard Bafflement©
(For the more "serious" mystery aficionados)
The inestimable Sherlock Holmes and his sidekick, Dr. Watson, discuss the clues to their latest puzzling case. As Sherlock leads his student, Watson, through a review of the suspects, motives, opportunity and method, you evaluate the evidence as well. See if you can decipher which suspect committed the dastardly deed! About 9 minutes.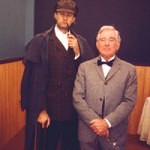 (2 actors in period costumes)
All performances or scripts subject to actor availability.
Technical Requirements: A dressing room for the actors. If the audience is over 125 people, wireless microphones (incl. sound system and technician)
---
Slick's Amazing Elixir©
It's an olde time travellin' medicine show! Dr. Phineas Slick (A 'snake oil' salesman) has come to town – with his flirtatious assistant, Vera Ripe, and dumb cowpoke, Claude McTrippenfal. Dr. Slick peddles his product with a carny-like spiel and zeal that will keep you in stitches. A 20 minute hilarious show (from early in the last century) about the wonders of 'Slick's Elixir of Life, Health & Happiness.' Guaranteed to cure what ails ya!!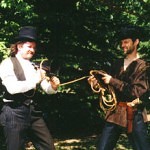 (3 actors in period costumes)
Technical Requirements: A dressing room for the actors. If the audience is over 125 people, wireless microphones (incl. sound system and technician)