2018 Public Shows by Pegasus Performances
2018 Public Shows by Pegasus Performances: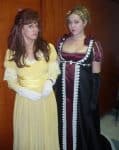 PEGASUS PERFORMANCES is delighted to be back as resident entertainment co. at FORT CALGARY with Public Comic Murder Mysteries presented with a delicious buffet. Jan. 26 (Fri.) catch GOLDEN AYE ©: Jayme Bond, playboy spy, has been transported from year 1795 to the present. Along with Russian Ivana Poppemoff & the latest Bond girl, Chocolat. ©  https://www.fortcalgary.com/entertain/dinner-theatre/ $85 + tix fees/ person includes buffet, fun show & gst. Celebrate Robert Burns Day 1 day late. Only 7 tickets left! Or Reserve now for our other fun shows (see below)! 
Jan. 19, 2018 (Friday) BAKER'S CREEK BISTRO show THE MOOSE TRAP © in beautiful Lake Louise has been POSTPONED to later in the year. Date TBA. 6 pm Cocktails, 7 pm Meal & Show, $89 per person + gst & gratuities. For reservations, or menu info, please e-mail Frontdesk@bakercreek.com or phone 403-522-3761. For show details contact greatfun@shaw.ca or 403-246-4811. https://bakercreek.com/posts/the-moose-trap/?portfolioCats=49%2C48%2C47%2C50%2C45%2C42%2C51%2C46
Feb. 2, 2018 (Friday) PEGASUS PERFORMANCES is at FORT CALGARY with a Comic Murder Mystery with buffet meal. SCOTCH ON THE ROCKS ©: Global warming means Anthropologist Ann's investigating reports of 3 fascinating bodies from the year 1825 sprung up from melting permafrost. Accompanying her: a military observer & nosy reporter. What dangers might those 'very much alive bodies' pose? Will all end up buried in their work? © $85 + ticket fees/ person includes buffet meal, fun show & gst.  https://www.fortcalgary.com/entertain/dinner-theatre/
Feb. 17 (Sat) join Pegasus at Century Downs Casino (5 mins north of Calgary x from CrossIron Mills mall) in the Homestretch Room for an evening of laughter, deceit & murder! THE SPY WHO LIKED ME ©: Yvel Blowhard, typical murderous, megalomaniac villain, has plans to gain vast wealth & rock the world economy by fixing races & sabotaging slot machines world wide. CSIS orders the head of secret service section MI to lead her best stable on a mission to stop him. Debonair (if clutzy) Cane Brawn & fresh Agent, Whisper Wind, leap out of the gate with mild-mannered but brilliant technical genius, CUE & seductive temp agent, Seconda Fiddle to foil the plot. But as they close in, all bets are off when secrets, lies & treason lead to murder in THE SPY WHO LIKED ME ©. 6 pm cocktails, 7 pm Show, 7:40 pm Buffet. https://www.eventbrite.ca/e/the-spy-who-liked-me-a-murder-mystery-tickets-42145892499
PEGASUS PERFORMANCES will also be presenting Comic Murder Mystery shows at FORT CALGARY  (ticket links & descriptions here) on:
Feb 14 = VALENTINE'S DAY MASSACRE © Dateline: 269 AD. Fashion = togas!
March 9 = AN IRISH STEW © Celebrate St. Patrick's Day early!
April 20 = APRIL SHOWERS BRING MORE MURDERS © All hail breaks loose, when rival weather reporters battle a self-proclaimed rain man.
May 11 = BIRDS, BEES AND BLOOD © At the wedding-rehearsal dinner for Honey Bee & Jackdaw Bird, a hive of jealousy & resentment boils over. Someone's sure to get stung! ©
June 15 = COOKING UP A MURDER © Chef Kory has 2 sous chefs – & one's out to get her. She also has to deal with Chez Maison's owner, her hostess & her rival. Someone's cooking up a murder. ©
Sept 14 = FOUL PLAY © (Hockey & sports theme) Em Forcer gets a workout coaching the neighbourhood hockey team. With these competitors, the penalties are deadly! ©
Oct. 12 = DARK & DREADFUL DRUID DEATH © Druids gather, bringing relics worth a fortune. Where wealth & power gather, so do greed & ambition. Add in a defrocked Druid priestess who dabbles in the black arts & murder's inevitable. ©
Oct. 31 = I KNOW WHAT YOU DID LAST … HALLOWEEN ©
And we'll be presenting a XMAS THEMED Comic Mystery in Nov. & Dec. at FORT CALGARY.