February 2018 & Onward Public Shows
PEGASUS PERFORMANCES is delighted to be back as resident entertainment co. at FORT CALGARY with Public Comic Murder Mysteries presented with a delicious buffet.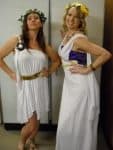 Valentine's, Feb. 14, 2018 (Wed.) PEGASUS PERFORMANCES is at FORT CALGARY with a Comic Murder Mystery with buffet. VERY Few tickets left, Book Now to avoid disappointment! THE VALENTINE'S DAY MASSACRE ©: Year 269 A.D., fashion = togas. Valentinus has been running around marrying people, for a price. This has upset Insomnia, mother of lovely Amora, who's recently wed aspiring stand-up comedian & street philosopher, Humerus. It's also put a crimp in the plans of Phenomena, who'd set her sights on Humerus. All could culminate in a muss, a fuss & a terminus! © Roman inspired eve attire encouraged! Business casual's great too! $85 + ticket fees/ person includes buffet meal, fun show & gst. https://www.eventbrite.ca/e/murder-mystery-dinner-theatre-valentines-day-massacre-tickets-39996419367?utm_term=eventname_text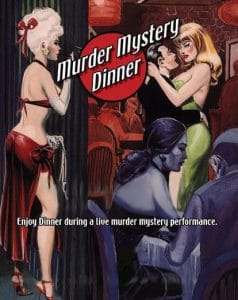 Feb. 17 (Sat.) join Pegasus at CENTURY DOWNS CASINO (5 mins north of Calgary x from CrossIron Mills mall) in the Homestretch Room for an evening of laughter, deceit & murder! THE SPY WHO LIKED ME ©: Yvel Blowhard, typical megalomaniac villain, has plans to gain vast wealth & rock the world economy by fixing races & sabotaging slot machines world wide. CSIS orders the head of secret service section MI to lead her best stable on a mission to stop him. Debonair Cane Brawn & fresh Agent, Whisper Wind, leap out of the gate with brilliant technical genius, CUE & seductive temp agent, Seconda Fiddle to foil the plot. But as they close in, all bets are off when secrets, lies & treason lead to murder in THE SPY WHO LIKED ME ©. 6 pm cocktails, 7 pm Show, 7:40 pm Buffet. This is the Saturday right after Valentine's, so bring your loved one/s out for this hilarious James Bond Casino Royale Comic Murder Mystery spoof!  https://www.eventbrite.ca/e/the-spy-who-liked-me-a-murder-mystery-tickets-42145892499
March 9 (Friday) PEGASUS PERFORMANCES is at FORT CALGARY with a Comic Murder Mystery with buffet meal. Celebrate St. Patrick's Day early with AN IRISH STEW ©: An' it's a wake for yon grandfather, then, is it? Sure and begorrah, all of his surviving feisty relatives have gathered together to toast the recently deceased ol' man – and to find out whether the rumours of his having found the leprechauns are true. Or were his mumblings about little green men just from too much imbibing of green beer? Will his cache of genuine rainbow jewels turn out to be just so many sham rocks? Is this a pot o'gold, or An Irish Stew? ©  https://www.fortcalgary.com/entertain/dinner-theatre/
April 20 (Fri.) PEGASUS PERFORMANCES presents APRIL SHOWERS BRING MORE MURDERS © All hail breaks loose, when rival weather reporters battle a self-proclaimed rain man! © At FORT CALGARY with buffet meal. https://www.fortcalgary.com/entertain/dinner-theatre/ 
Jan. 19, 2018 (Friday) BAKER'S CREEK BISTRO show THE MOOSE TRAP © in beautiful Lake Louise has been POSTPONED to later in the year. Date TBA. 6 pm Cocktails, 7 pm Meal & Show, $89 per person + gst & gratuities. For reservations, or menu info, please e-mail Frontdesk@bakercreek.com or phone 403-522-3761. For show details contact greatfun@shaw.ca or 403-246-4811.https://bakercreek.com/posts/the-moose-trap/?portfolioCats=49%2C48%2C47%2C50%2C45%2C42%2C51%2C46
PEGASUS PERFORMANCES will be presenting Comic Murder Mystery shows at FORT CALGARY  (ticket links & descriptions here) on:
May 11 = BIRDS, BEES AND BLOOD © At the wedding-rehearsal dinner for Honey Bee & Jackdaw Bird, a hive of jealousy & resentment boils over. Someone's sure to get stung! ©
June 15 = COOKING UP A MURDER © Chef Kory has 2 sous chefs – & one's out to get her. She also has to deal with Chez Maison's owner, her hostess & her rival. Someone's cooking up a murder. ©
Sept 14 = FOUL PLAY © (Hockey & sports theme) Em Forcer gets a workout coaching the neighbourhood hockey team. With these competitors, the penalties are deadly! ©
Oct. 12 = DARK & DREADFUL DRUID DEATH © Druids gather, bringing relics worth a fortune. Where wealth & power gather, so do greed & ambition. Add in a defrocked Druid priestess who dabbles in the black arts & murder's inevitable. ©
Oct. 31 = I KNOW WHAT YOU DID LAST … HALLOWEEN ©
And we'll be presenting a XMAS THEMED Comic Mystery in Nov. & Dec. at FORT CALGARY.