Jan – Mar 2019 Public Shows
Fun Upcoming 'Comic Murder Mystery' Public shows by PEGASUS in 2019! Sit back, laugh & enjoy – or interact with the characters, play Super Sleuth & try to solve 'whodunnit' 🕵️‍♀️ all while enjoying a delicious, dinner buffet!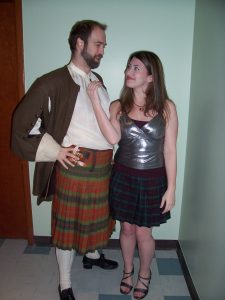 Jan. 19, 2019 (Sat.) Pegasus Performances presented THE COOK, THE SCOT, HIS LASS & HER LOVER © at Fort Calgary, a comic Mystery on the Amateur Theatre's prep for their Robbie Burn's Day show. Missed the fun? Catch an Upcoming show below, or book a Private show. Contact Pegasus at 403-246-4811, or e-mail greatfun@shaw.ca for details!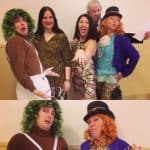 Feb. 14, 2019, Valentine's 💕 evening, our show DEATH BY CHOCOLATE © by Pegasus Performances was SOLD-OUT at Fort Calgary. Please make sure you book early for our upcoming shows below to avoid disappointment!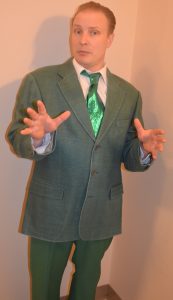 March 16 (Sat.) Start your St. Patrick's Day🍀 celebration a day early with DEATH BY SHAMROCK ©, a Comic Mystery by Brent Nichols at Fort Calgary. It's the final round of the legendary TV show 'The Incredible Race'. The contestants are gathered at Limerick Castle in Ireland for the final competition & greatest challenge – a limerick-writing contest. With a million-dollar prize & a world of publicity up for grabs, it's a victory to die – or to kill – for! Ticket link & further info http://show.ps/l/a36f1b0c/
May 23 (Thurs.) at Fort Calgary GRAPE EXPECTATIONS, or A Wine to Die For ©: by Leslie Carmichael ©: Val Policella's built her winery from the ground up. She's enjoying the fruits of her labours & not about to let anyone take it from her! Especially not Val's erstwhile partner, Oloroso de Amontillado; nor that upstart Tawny Port & her boyfriend, Woody Plonk. Let them claim they don't want her land; it's just sour grapes. The only real rival is the respected Barb Aresco. Trouble is fermenting in the winery & something is about to pop! © Tickets http://show.ps/l/c2caa561/
June 13 (Th) MURDER TO A TEE © at Fort Calgary. Golf is a game of inches. So is murder. At Wolf Swallow Club, those with irons in the fire get teed off. © (Perfect for an early Father's Day celebration!)
September 18 (Wed) enjoy LOVE TO KILL YA BABY © at Fort Calgary: It's the 2nd Annual Bake-Off – but it's the 1970's & that crazy disco scene makes everyone want to Rock the Boat! Before you can Knock 3 Times, all the contestants will do the Hustle & one will take their Last Dance! ©
October 31 (Halloween) join pegasus at Fort Calgary for HALLOWE'EN HORROR: A NIGHT AT THE GRIMMIES ©: The cast and crew of the worst horror film ever would just kill for one of the Grimmy Awards. ©
and Nov. 14, 21, 28 (Thursdays) & Dec. 4, 11 and 18 (Wednesdays)
Two Holiday themed shows by PEGASUS PERFORMANCES alternate at Fort Calgary, perfect for a Corporate Xmas Party! MURDER UNDER THE MISTLETOE: Busy time of year for florist Holly – especially when an escaped elf takes refuge in her shop. It's a cut-throat business. ©, alternates with CUT-THROAT CHRISTMAS: North Pole HQ says: Give the season a fresh look! As workers scramble for ideas, suspicions grow. Is Santa behind this, or his trophy bride? The ex- Mrs. Claus is called in to help, but feels no Xmas cheer. ©