2019 Upcoming Public Shows
Fun Upcoming 'Comic Murder Mystery' Public shows by PEGASUS in 2019 at Fort Calgary! Cocktails 6 pm, Buffet 7 pm, Show Conclusion 10 pm. Just watch, Laugh & enjoy – or interact with the characters, play Super Sleuth & try to solve 'whodunnit' 🕵️‍♀️ all while enjoying a delicious, dinner buffet!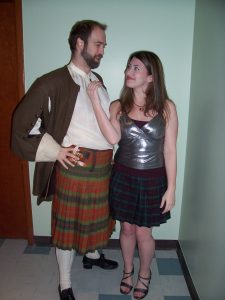 Jan. 19 (Saturday) Pegasus Performances presents THE COOK, THE SCOT, HIS LASS & HER LOVER © (with a Comic Bobbie Burns theme) Welcome to the Amateur Theatre Society's preparations for their Robbie Burn's Day show. Will the Artistic Director and leading lady finally step on one toe too many?! To what lengths will the understudy go to shine? Can studly Rock Heman still look manly in a skirt, oops we mean, kilt? And will technical director Tony finally get this show out of the starting gate?! It's a motley crew. And one is a murderer! © Tickets & further info http://show.ps/l/dfb1ba5e/
Feb. 14, Valentine's 💕, (Thursday) DEATH BY CHOCOLATE © Being involved with Tillie Tonka's chocolate factory is more bittersweet than sweet! Tillie's secretary has designs on the chocolates. Carob, a competitor, is a weak and pale imitation. Rock, foreman of the Lumpy-Wumpies, wants better benefits. Al Mond is tired of getting paid peanuts. And Sugar Maple, Tillie's daughter, doesn't want to be reminded of her origins! © Book early as this Valentine's eve will sell out quickly! Ticket & further info http://show.ps/l/9e17161f/
March 16 (Sat.) – Start your St. Patrick's 🍀 celebration a bit early with DEATH BY SHAMROCK ©. It's the final round of the legendary TV show The Incredible Race. The contestants are gathered at Limerick Castle in Ireland for the last competition – a limerick-writing contest. With a million-dollar prize & a world of publicity up for grabs, it's a victory to die – or to kill – for! http://show.ps/l/a36f1b0c/
May 23 (Th) GRAPE EXPECTATIONS, or A Wine to Die For ©: At Val Policella's winery, trouble's fermenting & death may be popping by. ©
June 13 (Th) MURDER TO A TEE © Golf is a game of inches. So is murder. At Wolf Swallow Club, those with irons in the fire get teed off. © (Perfect for an early Father's Day celebration!)
September 19 (Th) LOVE TO KILL YA BABY ©: It's the 2nd Annual Bake-Off – but it's the 1970's & that crazy disco scene makes everyone want to Rock the Boat! Before you can Knock 3 Times, all the contestants will do the Hustle & one will take their Last Dance! ©
October 31 (Halloween) HALLOWE'EN HORROR: A NIGHT AT THE GRIMMIES ©: The cast and crew of the worst horror film ever would just kill for one of the Grimmy Awards. ©
and Nov. 14, 21, 28 (Thursdays) & Dec. 4, 11 and 18 (Wednesdays)
Two Holiday themed shows Alternate, perfect for a Corporate Xmas Party!