March, April, May 2018 & Onward Public Shows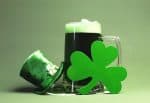 March 9 (Friday) PEGASUS PERFORMANCES performs a Comic Murder Mystery at FORT CALGARY in conjunction with a delicious buffet meal. Celebrate St. Patrick's Day early with AN IRISH STEW ©: An' it's a wake for yon grandfather, then, is it? All his surviving feisty relatives gather to toast the recently deceased ol' man – and to squabble over the treasure the old fella claims he got off of the leprechauns. It could be his mumblings about little green men were just from imbibing too much green beer, but as the family vie for Granddad's fortune, greed, rivalry and blackmail come to a boil in An Irish Stew. © Meal & Show, $85 + ticket fees per person https://www.fortcalgary.com/entertain/dinner-theatre/
April 20 (Fri.) PEGASUS PERFORMANCES presents APRIL SHOWERS BRING MORE MURDERS ©: Life's unpredictable for weather reporter, Gail Force. Even rival Crystal Bahl, a psychic, has better luck with her predictions – at least when it comes to Calgary weather. That is, until a self-proclaimed rain man comes to town … and all hail breaks loose! © At FORT CALGARY with a delicious buffet meal. Meal & Show, $85 + ticket fees per person https://www.fortcalgary.com/entertain/dinner-theatre/ 
May 4, 2018 (Friday) BAKER'S CREEK BISTRO in beautiful Lake Louise, with PEGASUS, presents the Comic Murder Mystery Dinner Theatre, BLIND DATE WITH DEATH ©. Gertrude Groynetwist is used to getting what she wants! When she has her assistant find her a husband through a computer dating service, the Russian mobster who turns up for their blind date is more than she bargained for – or less. Romance takes a turn toward murder in a 'Blind Date with Death.' © 6 pm Cocktails, 7 pm Meal & Show, $89 per person + gst & gratuities. For reservations, or menu info, please e-mail Frontdesk@bakercreek.com or phone 403-522-3761. For show details contact greatfun@shaw.ca or 403-246-4811.
PEGASUS PERFORMANCES will be presenting Comic Murder Mystery shows at FORT CALGARY (ticket links & descriptions here) on:
May 11 = BIRDS, BEES AND BLOOD © At the wedding-rehearsal dinner for Honey Bee & Jackdaw Bird, a hive of jealousy & resentment boils over. Someone's sure to get stung! ©
June 15 = COOKING UP A MURDER © Chef Kory has 2 sous chefs – & one's out to get her. She also has to deal with Chez Maison's owner, her hostess & her rival. Someone's cooking up a murder. ©
Sept 14 = FOUL PLAY © (Hockey & sports theme) Em Forcer gets a workout coaching the neighbourhood hockey team. With these competitors, the penalties are deadly! ©
Oct. 12 = DARK & DREADFUL DRUID DEATH © Druids gather, bringing relics worth a fortune. Where wealth & power gather, so do greed & ambition. Add in a defrocked Druid priestess who dabbles in the black arts & murder's inevitable. ©
Oct. 31 = I KNOW WHAT YOU DID LAST … HALLOWEEN ©
And we'll be presenting a XMAS THEMED Comic Mystery in Nov. & Dec. at FORT CALGARY.