June – October 2018 Public Shows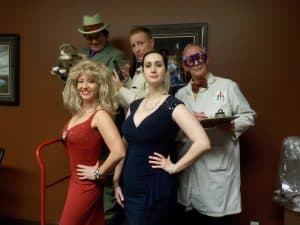 June 10 (Sunday) The Daughters Of the Nile fundraise with PEGASUS to support Shriners Children's Hospitals, presenting the Comic Murder Mystery Dinner Theatre, THE SPY WHO LIKED ME ©, a spoof of 'Casino Royale' with James Bond. Yvel Blowhard, megalomaniac villain, plans to gain vast wealth & rock the world economy. CSIS orders the secret service to stop him. Agents Cane Brawn & Whisper Wind with tech genius, CUE, & seductive temp agent, Seconda attempt to foil the plot. But all bets are off when secrets, lies & treason lead to murder! © 5 pm Cocktails, 6 pm Show, Doors Close at 5:45 pm. $50 + gst including show & buffet. At the Al Azhar Shrine Temple Fireside room. For tickets call Lorna McLaughlin at 403-254-0994 or Lorraine Weller at 403-239-1705. For show details contact Pegasus at greatfun@shaw.ca or 403-246-4811.
PEGASUS PERFORMANCES will be presenting Comic Murder Mystery shows along with a delicious Buffet meal at FORT CALGARY on these FRIDAY evenings (ticket links & descriptions click here):
June 15 = COOKING UP A MURDER © Chef Kory has 2 sous chefs – & one's out to get her. She also has to deal with Chez Maison's owner, her hostess & her rival. Someone's cooking up a murder. ©
Sept 14 = FOUL PLAY © (Hockey & sports theme) Em Forcer gets a workout coaching the neighbourhood hockey team. With these competitors, the penalties are deadly! ©
Oct. 12 = DARK & DREADFUL DRUID DEATH © Druids gather, bringing relics worth a fortune. Where wealth & power gather, so do greed & ambition. Add in a defrocked Druid priestess who dabbles in the black arts & murder's inevitable. ©
Oct. 31 = I KNOW WHAT YOU DID LAST … HALLOWEEN © A plot to lure Johnny Depp to the Albertan village, Dapp, goes awry when starry ambitions lead to deadly suspicions. ©
And we'll be presenting a HOLIDAY/ XMAS THEMED Comic Mystery in Nov. & Dec. at FORT CALGARY.